i love me some twin peaks. i already have my outfit picked out for may 21. i saw the original movie opening day in the theatre as
a sophomore in high school. the series is wonderful & completely fukt up. in today's marathon tv sessions, it will go super fast. 2 seasons (30 hour long episodes) + 1 rated R movie. You want watch the movie after the series. You can find them both on hulu or find the series on netflix & amazon.
i wonder, did the network execs like not watch this directors other weird ass movies? how the fuk did he get backing for this twisted stuff? this is the guy that made the 1984 dune & eraserhead & midgets tapdancing in his film wild at heart with mf'n isabella rosellini.
lynch likes to take super normal exterior & make it super weirdo inside. with an eyepatch or a secret coke habit or cross-dimensional travelling giants & midgets, or depending on the day, pie or donuts. just roll with it, its not going to be normal. its going to freaking oddball arty af. dirty, bruised & strangely beautiful.
when you get to the 2nd season remind your self that this ish ran on network tv, super fresh & modern even now. lol the censors were blown out of their chairs. the show was not renewed for a 3rd season. but man what a ride.

so here is my synopsis for people that don't watch the show told in gifs. i will try not to leave any spoilers...

SYNOPSIS in moving pictures
the 30 episode tv series follows the mystery related to the death of a popular high school girl named Laura Palmer, who dies fairly early in the first episode so this isn't really telling you anything. She seems to have it all, steady football player boyfriend, charity work, and extracurricular activities galore including some of the seedier variety. The local police find her body on the beach wrapped in plastic and call in for federal backup, in the form of the series detective, Agent Dale Cooper.
Cooper investigates the people associated with the young girl and learns about the minutaie of the friendly small town, all the way down to the best place to get cherry pie and coffee at the local diner.
However, under the Mayberry - Leave it to Beaver -like exterior of the little down, dark forces are at play. Agent Cooper teams up with the local sheriff's crew to figure it out. Together they try to uncover leads, some of which point a local bar & brothel, others more surreally metaphysical. Often we wonder if the culprit is more domestic than exotic.
Agent Cooper meticulously combs through all the evidence, the dead girl's possessions and those who loved her.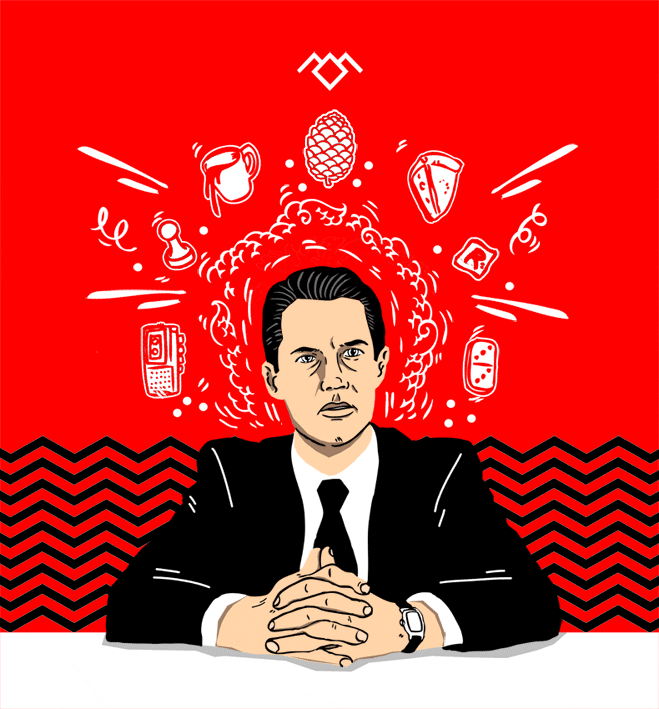 Expect cameos by stars like David Bowie, Heather Graham, David Duchovny in drag, and the director himself as a hard of hearing agent.